"What's that?" She asks the way any four-year old girl would ask, all pointing fingers and standing really close. She is a four-year old girl, true, but she's not like most of them. She not shy, she's not afraid, she knows what a 'chrysalis' is, and I don't. She doesn't think that's weird.
Then there's the fact that she knows how to bargain. And don't expect her to break down, pound her fists on the floor and cry until she gets what she wants. No, no. This little princess knows's how to work you. She's looking at me all wide-eyed in a pretty little dress, hair all brushed and waiting for her answer.
"It's a bird," I say.
"And this?" She asks, pointing slightly lower.
"That's a hand," I say. She's checking out the tattoo on my lower right arm and tracing the thick, dark lines with her finger. It's a sterling perched on a hand.
"So you like tattoos," she asks working her finger from the top of the bird all the way down to the wrist. It tickles, but I let her follow all the lines.
"Yes, I love them."
"So, then I can draw another on you?"
With her head still pointed down, her little eyes peer up at me to monitor my reaction. I can see she has the entire conversation mapped out already, the little grin on her face shows it. I know I have lost before I fully realised I entered into a game. This is why she's not a regular four-year old. This is also why I've grown fond of her.
Aurora grabs a ballpoint pen from the table and goes to work on my other arm. She is fully concentrated on her project and wonder how I got here. Ellis walks into the room and starts laughing. She turns her arm towards me and lifts the sleeve of her shirt; Aurora was here.

I'm sitting on the edge of a sofa-bed, where I have just woken up, in the living room of the most interesting family in the world. Now, I'm not saying they are, I wouldn't know what constitutes as being the 'most interesting'. It's something that father Johnny said to me, he wants to be the most interesting man in the world. At first I wonder why someone would say this, but after I finished the first book he gave me to read (yes, he gave me multiple) I understand; when you dream big, aim high and live big than your actions will follow.
And, for sure, the Vasquez-family is pretty interesting.
We meet the family in church. I've just been upstairs eating a sandwich with another pretty interesting character I've just met and when I walk back into the auditorium I see Ellis is talking to new people. I go over to introduce myself, and shake their hands: "Hi, Johnny. Hi, Lacie. It's nice to meet you!" Pretty standard stuff when you're traveling. They're obviously American, because, although I don't quite hear them through the noise coming from all the other conversations, the accents are unmistakable. A couple with three kids; Little Johnny, who is only four months old, Aria and Aurora, who have settled down in Estonia after traveling around for a year.

Suddenly Lacie says something that catches my attention: "Johnny co-owns a creative workspace here in Tallinn." Wonderful, I was looking for a place with fast wifi to put down my laptop, get a good cup of coffee and do some work.
A day later we ring the doorbell at The Workshop. It's located in what seems to be a rather sullen office block, just a few minutes from Old Town. Although there's still some work to be done on the interior it's a nice place and there are about 6 or 7 people staring at computer screens. Johnny shows us around and afterwards shows where we can put our laptops down, what the wifi-password is and we're ready to go.
During work Johnny asks us over for dinner the next day, like it's no big deal, but we're always happy to meet new people and we jump at the invitation while simultaneously trying to keep our cool. The next day we're back at the Workshop and are all like: "We're still on for tonight?" Hoping the plans didn't change, and nothing changed. Johnny tells us it's a family tradition that they open their doors to friends and friendly people every Tuesday night in a way to create a sense of fellowship. That night there will be taco's and Johnny tells us it's going to be the good kind.
Good food (and drinks) are important to this interesting family, we are happy to find out over the coming days. Not only are the taco's, during open door Tuesday, made with original shells send over from America ("they don't sell any good kinds here"), but we find out that amazing popcorn exists, that banana bread is delicious and that there is such a thing as brown gin ("It's from Iceland.")
We find all of this out because we told Johnny that Ellis is a photographer and that we're trying to trade our talents for food and shelter. "Really?" He asked. "We could use some good pictures of The Workshop, actually. And we wouldn't mind having you guys on our couch."
All of a sudden we're the type of people who sleep on couches. Although saying it like that doesn't do it any justice, because we had loads of fun.
During the days we had planned to be on the road to Riga we're suddenly up to our neck in fun activities. We bake sausages on the beach, we have a boys' night out, and we play a board game called Epidemic, of which all the interactions are in Estonian and still we end up winning. We get to enjoy Tallinn and it's wonderful Old Town some more in the days that are still sunny (although slightly windy) when there was already supposed to be some serious autumn storms.
And during this time we don't just find out that Johnny wants to be the most interesting man in the world, but that he also has some tricks up his sleeves to become just that.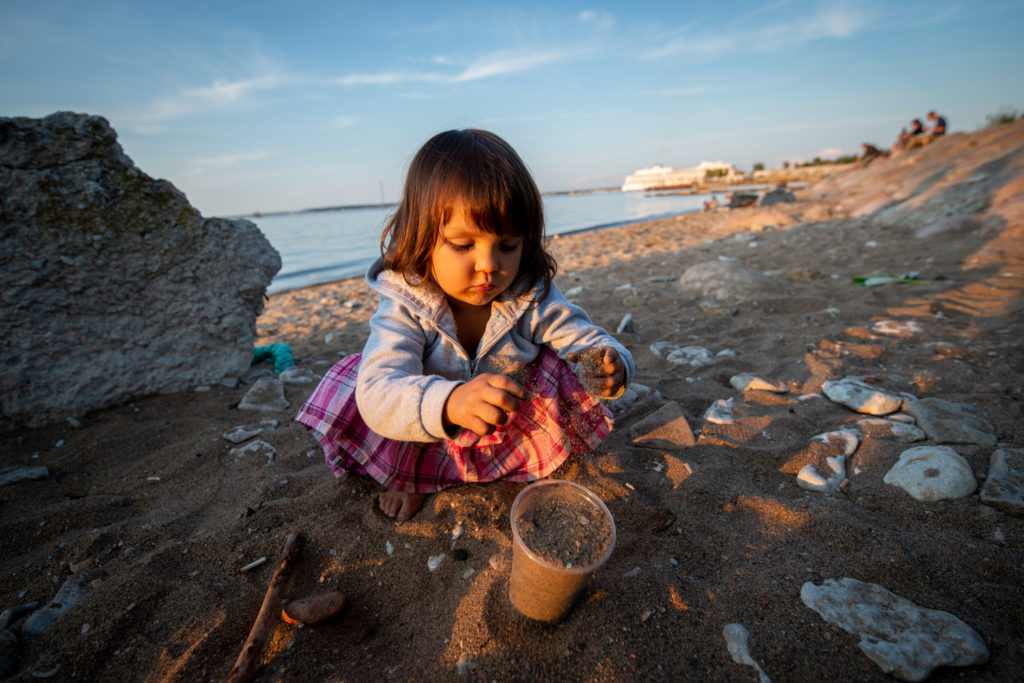 First off, Johnny is the King of Knitting. Now, he doesn't call himself that, but I do. Here you have an American, a father of three, living in Estonia and he's also a legit knitting teacher. He gives online courses, has 200.000+ subscribers on his YouTube, and launches knitting products like there's no tomorrow. Johnny is so into knitting that I once saw him looking at Ellis only to see how her sweater was made. I'm serious.
Second off, Lacie was an actual model. I say 'actual', because I know people who could've been models, or who once got told by a stranger that they could totally be featured in the next Vogue, but Lacie actually modeled. Wan't to hear a fun story? When Johnny wanted to propose to Lacie, she bailed the day before his big question, because she'd won a trip to China. To China! I mean, who does that? That's pretty interesting!
But see, now I'm just stating facts about this family. The thing is: what makes them interesting is not everything they've done, or all that they are still to do. What we think makes them interesting is that they have genuinely big hearts and that they are full of life, and love. We think they're interesting because they took us into their home and we got to make it our home for a couple of days.
We're blessed to have met them, and well…if the future looks as bright as it seems then we'll be sure to meet them again. Morocco, anyone?